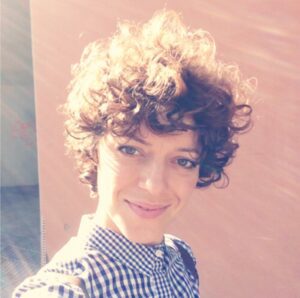 Lola was born in Valencia and from her early years showed talent and passion for the world of the scenic arts. After her degree with honors, she became ballet dancer of the Opera House in Wiesbaden (Germany) and Zurich (Switzerland) during 5 years.
In 1998 she moved to Barcelona to begin a Degree in Fashion Design at the International Fashion Academy.
She quickly entered in the world of styling for audiovisual, working at Vestir L'Epoca, a very prestigious clothes service, along with advising stylists for commercials, TV, theatre and film.
Three years later she began working as a stylist for very popular and award-winning television programs and in 2009 she start to work also for theatre plays, movies and commercials.
In 2011 she completed her Masters in Fashion Styling at the Saint Martins University of the Arts London, while she worked as co-stylist  for the brand image of Jean Paul Gaultier.
Lola is meticulous and a perfectionist. As a stylist she produced all kinds of characters ranging from caricature or impersonation to old-fashioned characters or contemporary as well.
She has her finger on the trend pulse and she knows how to use them. All that, mixed with her passion for classical and urban fashion with a touch of vintage sophistication creates her eclectic view of fashion.
Lola is highly organized and proactive. She enjoys to understand and get involved  in the artistic process as a whole and likes to create a positive atmosphere to lead her team to give the best of themselves.
My work as a wardrobe stylist ranges from advice on image and style, making look books, designing, finding all kinds of costumes, transforming or making new costumes, applying special treatment to clothing or supervising the set of a shooting.